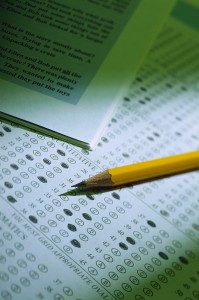 Those seeking an alternate route to Texas teacher certification must hold a bachelor's degree. They can then enter alternative teacher programs, which offer teacher training as well as additional subject area coursework. Often, but not always, Texas alternative certification programs are one year in length and can include a paid teaching position.
Moreover, no matter what program the student enrolls in, it is still necessary for the student pursuing the alternate route to pass the required Texas teacher certification tests for the subject they wish to teach, in order to become certified. Additionally, please note that many different entities of varying quality run alternative Texas teacher certification programs, and so, to find the most suitable program, it is important that the prospective student visit the websites of many different programs.
Approved alternative Texas teacher certification programs are offered by many universities, educational service centers and other organizations. For your benefit, we have listed a few of these programs below. A comprehensive list of approved alternative teacher certification programs can be found at the Texas State Board for Educator Certification Website.
ACT Dallas, ACT Houston, and ACT Austin
This program, with locations in Houston, Dallas, and Austin, offers a distinct level of personal attention, featuring one-on-one advising by experienced, professional educators. They provide certification for all grade levels and subject areas, while focusing on high quality and personalized attention to encourage a new generation of skilled and dedicated teachers into the field through alternative teacher certification in Texas.
Teach for America
A 2-year national teaching program aimed at increasing educational opportunity nationwide.
Texas Teachers
Fully licensed and accredited to certify in all subject areas.
iTeach Texas
Private firm offering teacher and principal certification
The Texas State Board for Educator Certification
provides a great list of frequently asked questions.
This page is sponsored by our partner RossierOnline, an innovative graduate teacher preparation program delivered online from the University of Southern California. Learn more about RossierOnline.