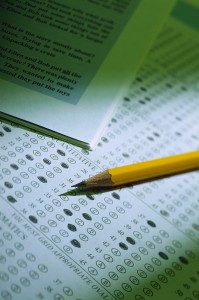 Alternative New Jersey teacher certification programs are offered through a variety of programs and institutions.
The New Jersey Department of Education has a state-run alternate route to teacher certification. Additionally, alternative certification programs, such as Troops-to-Teachers and ABCTE are accepted in New Jersey.
If you're looking to become a teacher in New Jersey but hold a bachelor's degree in a different field, there are several programs available in the state that will allow you to become a certified teacher in a short period of time. Here is a look at what the programs are all about and what you need to know to apply.
Program Mission and Overview
The Alternate Route program is a non-traditional teacher preparation program where prospective teachers must complete a minimum of 200 hours of formal instruction through an approved institution. In order to participate in this program, prospective teachers must apply for a Certificate of Eligibility through the Office of Licensure and Academic Credentials. Once program participants obtain the Certificate of Eligibility, candidates are issued a provisional license to teach in the classroom while completing program requirements to obtain a standard teaching license.
Eligibility and How to Apply
To apply for the Certificate of Eligibility, an individual must meet the following requirements:
Have a bachelor's or advanced degree from a regional accredited college or university.
For those who graduated after September 2004, a cumulative grade point average of 2.75 or greater is required.
For those who graduated before September 2004, a cumulative GPA of 2.5 or greater is required. Applicants must take a 24-hour pre-service teaching program and/or submit a Certificate of Completion.
Pass the New Jersey state test for the subject matter they wish to teach.
Pass an exam regarding physiology, hygiene and substance abuse issues or show proof of similar training in the military or at the collegiate level.
Submit the following documentation: Oath of Allegiance, sealed transcripts and a copy of test scores.
Accept employment with a school district. The school district will apply to the Provisional Teacher Program for candidates.
Meet the mentoring and formal instruction requirements based on the age group and desired subject area.
Financial information
Program participants are responsible for paying $190 in fees for obtaining the Certificate of Eligibility and Standard teaching certificate as well as a $100 administrative fee. Additionally, prospective teachers must pay for Praxis II subject-matter testing fees, which range from $50 to $150 depending on the test.
Program Mission and Overview
New Pathways to Teaching in New Jersey (NPTNJ) is a statewide alternative route to teacher certification. Required coursework is taught at a number of New Jersey community colleges. Candidates must complete a total of 15 credits of graduate coursework to complete this program.
Eligibility and How to Apply
Financial information
Program participants who choose to complete the program with credit coursework that counts toward an advanced degree must pay $9,897 for tuition.
Those who choose the non-credit pathway for certification pay $3,900.
Additional costs include administrative and testing fees, a mentoring fee, and the cost of textbooks.
Eligible candidates may qualify for scholarships, grants, and federal or private student loans to pay for this program.